I've known
Lisa Borden
for over a quarter of a century.
I know, it sounds old. We're not really. Well, not that much.
Lisa was a really young bride when I first met her. Now you know how old she and I are, middle-aged in years, young at heart, and spiritually – well, Lisa was always the mature one of the two of us.
This friendship – just one of the many Lisa manages to sustain so thoughtfully – has nourished me beyond words.
I was reflecting recently on how gentle Lisa was, all those years ago when we met with our husbands to study the Bible together. She was so patient with this young Christian who really didn't know much about the Bible at all and certainly not how to live a like a Christian.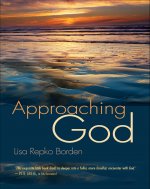 Lisa taught – and continues to teach - me a great deal. Back then she taught me, without many words, just by her kind nature and her lifestyle. And now she teaches many others with her words too. Beautiful words, thoughtful words, insightful words.
In her book,
Approaching God
.
Now I know a little more than I did then.
I know the Bible better. I have some idea of how to live like a Christian. Sometimes, I feel I actually achieve it for a moment or two.
And sometimes, I can pass on a little of what I learned from Lisa.
So I'm ordering another copy of her book to give to a friend. A friend who longs to know and serve God better. A friend who, through Lisa's book, will discover God as father, mother, artist, healer, guide...not just head knowledge of God, but discovering God personally. Because Lisa opens up the way to God through metaphor and imagery, in poetry and prose, in pictures and gentle questioning.
This is a bedside book, a being beside me book, a carefully bagged handbag book, a desktop sojourner book. A dip-in, dive-in, delight-in book.
Approaching God.